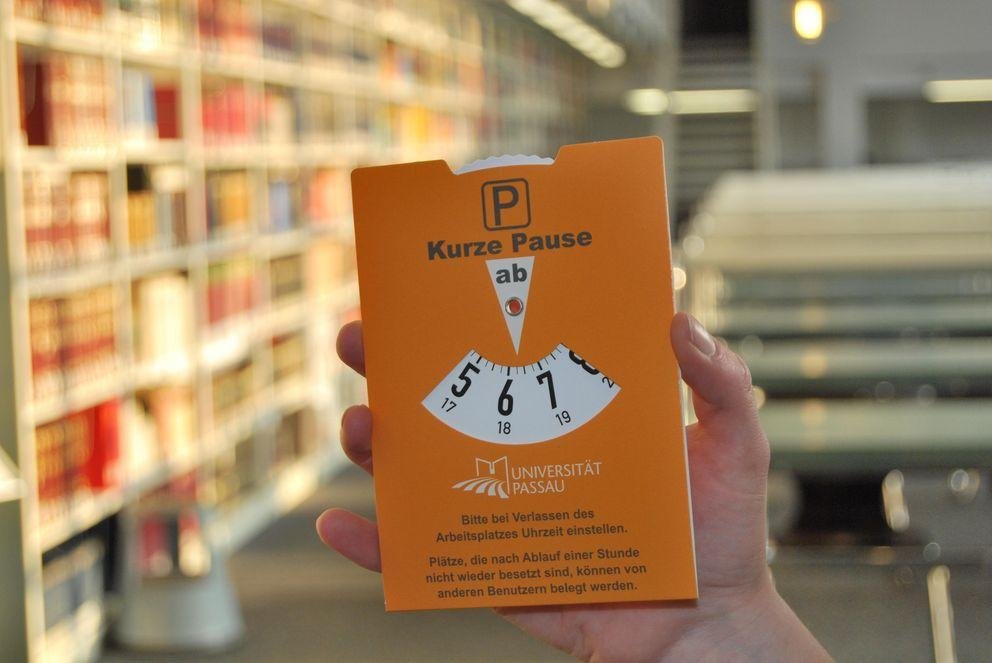 In the run-up to the examinations period, all our reading rooms are very busy with students revising for their exams. Some years ago, the University Library introduced a system that allows library users to temporarily leave their reading desk without losing it to someone else, while at the same time ensuring that everyone stands a good chance of finding a free desk for them to use. This uses 'desk reservation discs', or 'Pausenscheiben' in German, which are modelled on the parking discs motorists are sometimes required to use in public car parks. The discs are available from the reading room entrance.
The aim of introducing the desk reservation discs is to avoid a situation where users cannot find a free desk because other users have 'reserved' their reading desks for an unreasonable extended time by leaving their belongings on them.
This is how it works:
When you leave your desk – e.g. to take a break, search for a book or use the copiers – you should set the dial on your break disc to the current time and leave it on the desk.
Your desk is then reserved for 60 minutes.
If you leave your desk without leaving a desk reservation disc or if the time indicated on your disc is more than 60 minutes in the past, your desk is free for others to use.
When you have finished using the reading desk, please return the desk reservation disc to the collection point.