Law Library (Juridicum) reading room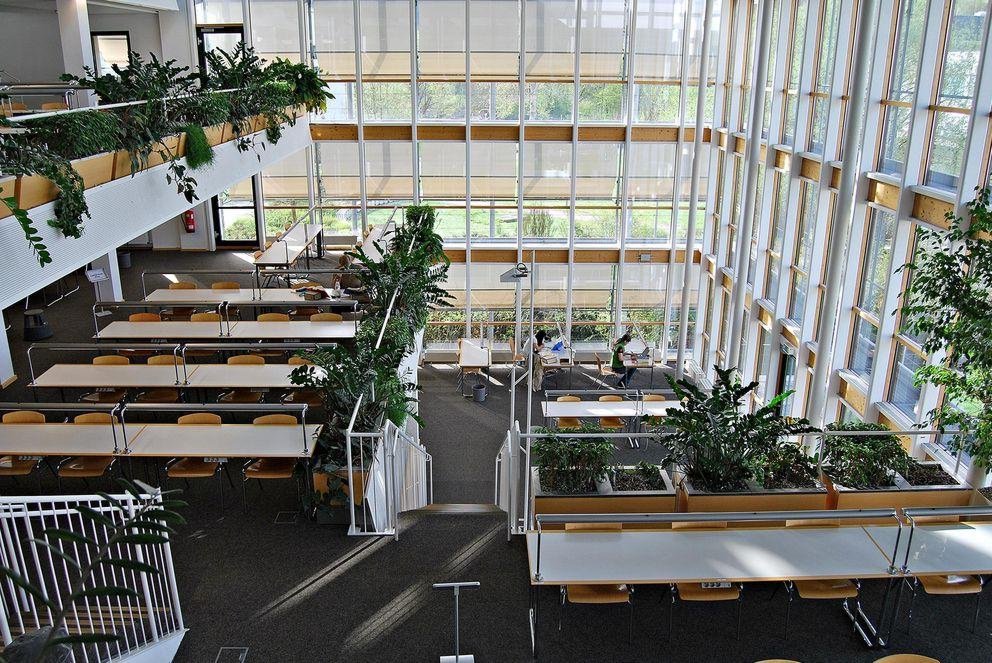 LIBRARY USE
The mask requirement will no longer apply indoors at the University Library. Students may continue to check out reading room books for two weeks and use the scanning service. More information
Holdings

Ground floor (entrance level):
Textbook collection for all Law holdings (17/PC-PZ), general periodicals (31/PA), official gazettes (31/PB), reference works, Festschriften (31/PC), journal volumes of the current year in the journal trays (bound volumes are located together with the book holdings), reserve collections

First floor:
Civil Law (31/PD), Commercial Law (31/PE), Labour Law (31/PF), Civil Procedure (31/PG), General Law (31/PI), International Law (31/PR)

Second floor:
European Law (PS), International Private Law (31/PT), Foreign Private Law (31/PU)

Third floor:
Foreign Private Law (31/PU), Roman Law (31/PV), History of Law (31/PW)

Overview of all Law Library holdings

Lists of newly acquired books, e-books and the tables of contents of selected journals can be found under new acquisitions.

Information

For enquiries related to the library, literature search, book locations, borrowing rules, interlibrary loans or our electronic services, contact the Law Library helpdesk.

Reading desks
256 desk spaces
WiFi

WiFi access is available in the Central Library and all other reading rooms.

Accessing the network with a mobile device

Access Problems: ask ZIM-Support, building Informatik/Mathematik, Room 136.

Group study room

On the ground floor, equipped with 8 desk spaces, a blackboard, projector and WiFi access. More information

Carrels
Eleven lockable work cubicles (third floor), partly assigned to doctoral students. Final examination candidates have priority when requesting free carrels – for more information and the keys (for single-day use) ask at the borrowing desk.
Library trolleys for postgraduates ('Doktorandenwagen')

The law library reading room has lockable trolleys for storing borrowed items and one's own study materials. Postgraduates and visiting scholars can borrow these trolleys free of charge for up to six months.

Library portal ('Bib-Portal') stations
Two terminals with acess to Passau Search Portal:

local catalogue (search, request, renewal and reservation functions)
Union Catalogue of the Bavarian Library Network
Access to the article database "Primo Central"

Copiers and printers

Printer-copiers (located on the ground floor, first and second floors)
Scan_Box (located on the first and third floor)

Lockers

There are 198 electronically operated daytime lockers in the entrance area. These are operated using your Mensacard. Like the coin-operated lockers, use of these is free of charge. However, to discourage permanent use of these lockers, you will be charged a minimum of 5 euros if the locker is not emptied by the closing time of the relevant reading room.

How to use the lockers and locker regulations

Longer-term lockers for students writing their dissertation or thesis are available free of charge but in very limited supply. More Information.

Additional lockers are located in the basement. Remember to bring your own padlock!

Bag/rucksack policy
You may not take any bags or rucksacks/backpacks, etc. into the reading room. What kinds of bags are permitted in the reading rooms?
Mobile phone policy
Mobile phones must be set to 'silent mode' while in the library. You may not make phone calls or listen to voicemail messages. You are allowed to receive text messages, but only with the phone set to 'silent mode' (i.e. no acoustic notifications).
Food and drink

You may not consume food or beverages in the reading room. However, you are allowed to bring drinking water onto the premises in a transparent, sealable glass or plastic bottle.

Behaviour while in the library
Break discs ('Pausenscheibe')
Break discs should be set to indicate when you leave your desk and intend to return later on. If you do not return within the next 60 minutes, or if you do not leave a break disc indicating when you left, other users have the right to use your desk space, see Desk reservation discs to prevent permanent desk occupancy
Library regulations

The relationship between users and the library is governed by the General Regulations on the Use of the Bavarian Public Libraries.