The University Library purchases licences from the ProQuest Ebook Central on an ongoing basis. All licensed e-books have records in Passau Search Portal. You may access these from outside the University computer network. All e-books can be read online or offline. All these e-books are DRM-protected.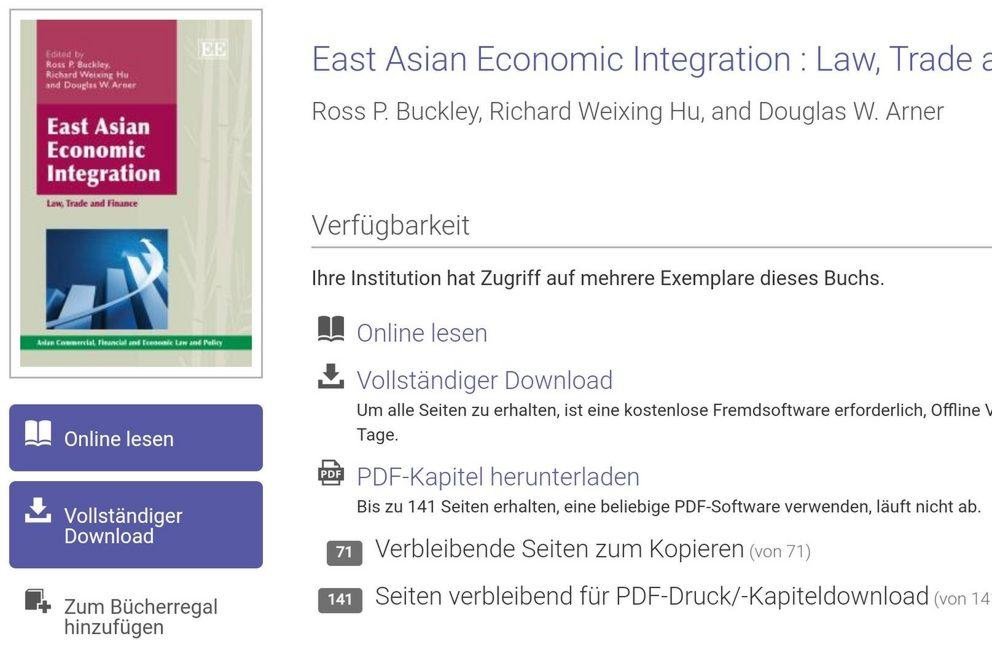 All e-books can be retrieved in the Passau Search Portal
Clicking the Passau Search Portal link to an Proquest eBook Central title (e.g. Buckley, Ross P.: East Asian Economic Integration) will first take you to the account log-on screen (use your University network account credentials, which are also known as 'ZIM credentials' and are identical to your Stud.IP account credentials) and then to the desired e-book, displayed in the online reader embedded into your web browser.
Pupils and other local resident users who do not have a University computer network account do not have access the Proquest Central E-Book Library.
Clicking the 'read online' button takes you to the fulltext. Just as in a library, you can start reading the book for 10 minutes before the book is borrowed (incurring costs for the library). The system marks the item as 'borrowed' after these 10 minutes have elapsed or as soon as you download the e-book or request the pdf version. The loan period for each e-book is exactly 24 hours. The elapsed time is shown on the 'bookshelf'.
e-book pages are displayed as 'Imageview' by default
available in pdf format (requires Acrobat Reader)
print and copy/paste functions (requires Acrobat Reader)
fulltext search capable
users can make annotations
You can download e-books for offline use at any time.
Chapter download: Download individual pages or a chapter: You will get a simple pdf file without DRM protection. There is a limit to the number of pages you can download (see book details, 'Download allowances')

Full download: Download a complete e-book: You will get a DRM-protected pdf file. To read the e-book you need Adobe Digital Editions (available for free for PCs and notebook computers) or the 'Bluefire Reader app (for smartphones and tablets). The maximum loan period for downloaded titles is 7 days. After this period, you will no longer be able to access the content. There is no need to return the e-book. If you wish to continue using this online resource, simply go through the borrowing steps again.
Reading offline on your PC or notebook computer
Proquest Ebook Central titles can be read on any up-to-date web browser. However, a special software, Adobe Digital Editions (ADE) is needed to read a full downloaded e-book offline on a PC or laptop, as it provides DRM functionality, which the publishers use to secure their e-books on this platform. DRM is used to set the loan period and prevent unlawful copying and distribution of digital copies.
Reading offline on your smartphone or tablet
The free 'Bluefire Reader' app must be installed and linked to your your Adobe ID to load e-books onto mobile devices. On Android, downloaded files are saved to the following 'bluefire reader/documents/Digital Editions' directory. You can proceed to use the 'Bluefire Reader' or any other DRM-enabled e-book reader, such as Mantano Reader or Aldiko, to read the e-book.
To register for an Adobe ID free of charge, visit: https://www.adobe.com/cfusion/membership/index.cfm?loc=at&nl=1
Printing or copying e-book content
Only borrowed titles can be printed, copied/pasted or annotated. The publishers define the specific DRM user rights granted for each e-book. As a general rule, a user can print 20% or copy 5% of the page contents. The same rules apply if the e-book is downloaded and used offline. Assigned and remaining user rights are shown under 'details', 'download allowances".
Why won't it print?
Problems printing documents often arise due to incorrect Adobe Reader and web browser settings. To resolve the issue, try the following checklist first:
is Adobe Reader installed on your system?
have you activated JavaScript in Adobe Reader (Edit → Preferences → JavaScript)?
have you ticked 'Display PDF in browser' in Adobe Reader (Edit → Preferences → Internet)?
is JavaScript enabled in your web browser?